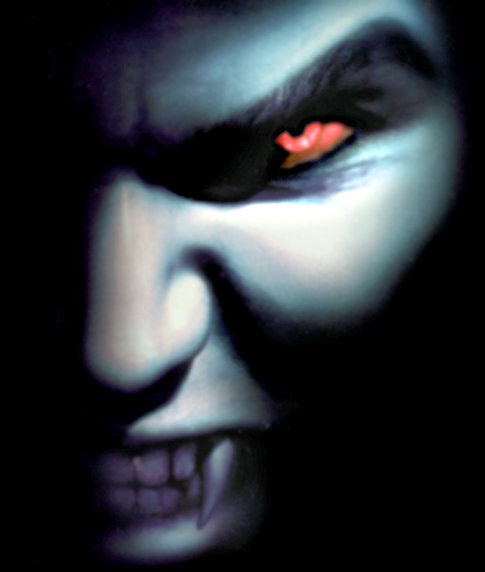 Legend tells us that vampires come out at night. They are night creatures because the sun can hurt and even kill them. They come out at night to seek fresh blood because without it they will suffer agonizing pain and will die. Their bodies dry up due to lack of blood, and new blood refreshes their bodies and gives them energy and certain powers.
It has been long believed that the condition associated with vampire legends is porphyria. Vampire characteristics are
similar to those of porphyrics and this may have led to the misconception in the early 1400-1600's that porphyria sufferers were vampires. Vampire legends are in every country and porphyria is also found throughout the world. Porphyria comes from the Greek word meaning purple.
Of course, we now know that porphyria patients are NOT vampires, but porphyria might have contributed to the origin of the vampire legends.
EXPLAINING PORPHYRIA
Porphyria is a group of disorders caused by the abnormal production of heme which is the base material responsible for making hemoglobin and chlorophyll. Most types of porphyria are inherited. A child needs to inherit the defective gene from only one parent to develop the disease.
Heme is a substance found in all body tissues. The largest amounts of heme are found in the blood and bone marrow, and heme is also found in the liver and red blood cells. Multiple enzymes are required for the body to convert chemical compounds called porphyrins into heme. If any of the enzymes are abnormal, the process is disturbed and cannot continue. This allows the porphyrins to build up in the body.
Excessive porphyrin in the body causes photosensitivity which is oversensitivity to sunlight. When porphyrins are exposed to light and oxygen, they generate a charged, unstable form of oxygen that can damage the skin. Nerve damage, pain and paralysis can occur in some porphyrias. Sometimes an attack is so severe it can also lead to respiratory paralysis and the patient is unable to speak, breath or swallow. At times, this if fatal.