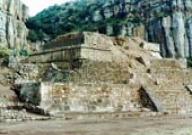 Several stone sculptures recently found in central Mexico point to a previously unknown culture that likely built a mysterious pyramid in the region, archaeologists say. Archaeologists first found the objects about 15 years ago in the valley of Tulancingo, a major canyon that drops off into Mexico's Gulf Coast. Most of the 41 artifacts "do not fit into any of the known cultures of the Valley of Tulancingo, or the highlands of central Mexico," said Carlos
Hernández, an archaeologist at Mexico's National Institute of Anthropology and History in the central state of Hidalgo. Many of the figures are depicted in a sitting position, with their hands placed on their knees. Some have headdresses or conical hats with snakes at the base, which could represent Ehécatl-Quetzalcóatl, the Aztec god of the wind.
One figure shows a man emerging from the jaws of a jaguar. The sculptures are also made of flat stucco—a combination of fine sand, lime, and water—and painted blue or green to the give the appearance of jade.