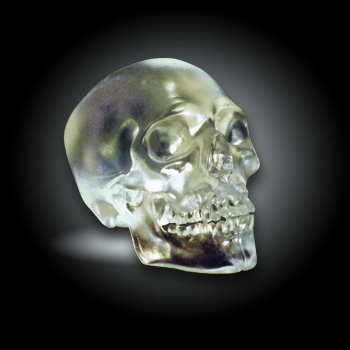 Skulls are humanity's foremost symbol of death, and a powerful icon in the visual vocabularies of cultures all over the globe. Thirteen crystal skulls of apparently ancient origin have been found in parts of Mexico, Central America and South America, comprising one of the most fascinating subjects of 20
th
Century archaeology.
These skulls, found near the ancient ruins of Mayan and Aztec civilizations (with some evidence linking the skulls with past civilization in Peru) are a mystery as profound as the Pyramids of Egypt, the Nazca Lines of Peru, or Stonehenge. Some of the skulls are believed to be between 5,000 and 36,000 years old.
Many indigenous people speak of their remarkable magical and healing properties, but nobody really knows where they came from or what they were used for.
Were they left behind after the destruction of a previous world, such as Atlantis? Are they simply ingenious modern fakes or can they really enable us to see deeply into the past and predict the future?
Much research is currently being done on the skulls. However, their origin is still a baffling mystery. They seem to defy logic. Everything that is known about lapidary work indicates that the skulls should have been shattered fractured, or fallen apart when carved.
Famous Crystal Skulls
This report examines the known history of crystal skulls, various viewpoints on where they might have came from, and the secrets they may reveal.
.
The Mitchell-Hedges Crystal Skull
The most widely celebrated and mysterious crystal skull is the Mitchell-Hedges Skull, for at least two good reasons. First, it is very similar in form to an actual human skull, even featuring a fitted removable jawbone. Most known crystal skulls are of a more stylized structure, often with unrealistic features and teeth that are simply etched onto a single skull piece.
Second, it is impossible to say how the Mitchell-Hedges skull was constructed. From a technical standpoint, it appears to be an impossible object which today's most talented sculptors and engineers would be unable to duplicate.
Mayan Crystal Skull and the Amethyst Skull
Further examples of primitively sculpted skulls are a couple called the Mayan Crystal Skull and the Amethyst Skull. They were discovered in the early 1900s in Guatemala and Mexico, respectively, and were brought to the U.S. by a Mayan priest. The Amethyst Skull is made of purple quartz and the Mayan skull is clear, but the two are otherwise very alike. Like the Mitchell-Hedges skull, both of them were studied at Hewlett-Packard, and they too were found to be inexplicably cut against the axis of the crystal.
Texas Crystal Skull (Max)
A skull known as "Max," or the Texas Crystal Skull, is a single-piece, clear skull weighing 18 pounds. It reportedly originated in Guatemala, then passed from a Tibetan spiritualist to
JoAnn
Parks of Houston, Texas. The Parks family allows visitors to observe Max and they display the skull at various exhibitions across the U.S.
ET Skull
"ET" is a smoky quartz skull found in the early 20
th
Century in Central America. It was given its nickname because its pointed cranium and exaggerated overbite make it look like the skull of an alien being. ET is part of the private collection of Joke Van
Dietan
, who tours with her skulls to share the healing powers she believes they possess.
Rose Quartz Crystal Skull
The only known crystal skull that comes close to resembling the Mitchell-Hedges skull is one called the Rose Quartz Crystal Skull, which was reported near the border of Honduras and Guatemala. It is not clear in color and is slightly larger than the Mitchell-Hedges, but boasts a comparable level of craftsmanship, including a removable mandible.
Origin Theories: Celestial Gifts or
Skullduggery

?

Regardless of any unearthly properties the crystal skulls may or may not possess, the question remains: where did they come from? There are countless hypotheses that they are the legacy of some higher intelligence. Many believe they were created by extraterrestrials or beings in Atlantis or Lemuria. One elaborate theory maintains that the skulls were left behind by a sophisticated Inner Earth society which lives at the hollow center of our planet, and there are thirteen "master skulls" which contain the history of these people.

The most obvious answer to the mystery is that native artisans in Latin America or elsewhere crafted the skulls themselves. The Mayans are most often associated with them, although some doubt that they could have made the skulls, and not simply because of the technical conundrum the job poses. One theory holds the Aztecs as a more likely candidate to have created them. Skull imagery figures prominently in Aztec art and religious symbols, and not in that of the Mayans. The Aztecs were also more highly skilled in sculpting with crystal. It could be that the skulls found in Mayan ruins are actually displaced Aztec relics... or, as some suspect, this incongruity may indicate that some accounts of the skulls' origins are phony.

Many skeptics feel that the crystal skulls are probably of a much more recent vintage than their accompanying stories suggest. This, they believe, is the best way to explain their existence, since no one could have created them without technologies available only within the past century. Since carbon-dating only works on organic substances, it is impossible to determine just how old a crystal skull is. But one recent study found reasonable signs of some skulls' relative youth.

A May broadcast of the BBC documentary series "Everyman" reported on studies of a number of crystal skulls and other artifacts of supposedly ancient origin conducted at the British Museum. Using electron microscopes, the researchers found that two of the skulls possessed straight, perfectly-spaced surface markings, indicating the use of a modern polishing wheel. Genuine ancient objects would show haphazard tiny scratches from the hand-polishing process. The report speculated that these skulls were actually made in Germany within the past 150 years.

Even the regal Mitchell-Hedges skull is not without scandalous accusations of fraud. Some believe that F.A. Mitchell-Hedges had the piece commissioned by a sculptor, and planted it in the

Lubaantun

ruins for his daughter to find as a spectacular birthday present.

The validity of this charge is uncertain, but even if the Mitchell-Hedges skull is of modern origin, its structure is no less extraordinary. In all likelihood, every crystal skull in the world was fashioned by plain old human beings of some sort, and regardless of whether the work was carried out five years ago or five hundred years ago, we still don't have any idea how they did it.
---
The Crystal Skull Enigma
In the realm of ancient artifacts there are few antiquities that are as thought provoking as the carved quartz crystal skulls. Very little is known about these ancient wonders of the world, largely due to the fact that so few of them exist which are accessible to the researcher. In the last few years, interest has risen intensely in these works of antiquity. For many years, when the subject of the crystal skulls was discussed, few people were aware of the fact that the Mitchell- Hedges skull was not the only crystal skull known to man. It may have been the most perfectly carved, even viewed by more people throughout the world than any other skull, but, certainly not the only skull. In fact, there are many skulls in various locations around the world which range in size from a few pounds, or softball sized, to over forty pounds.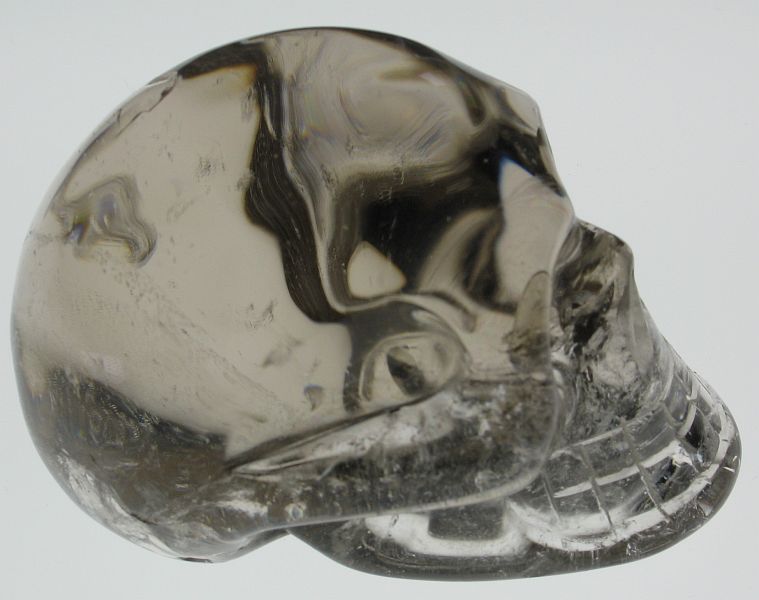 Only a few crystal skulls have been expertly authenticated as ancient. Many have been carved within the last five years. Presently, the accepted authentication by which a carved skull can be termed ancient is through a complicated process of casting a mold of the skull and placing it under an electron microscope to examine the minute markings left by the carver. These markings are the clues by which the age of the carving is determined. The telltale pattern of the marking will verify what method was used to carve and polish the skull; thereby, the antiquity expert is able to confirm the age based on methods used on other known works which range from the ancient to the very contemporary. By comparing these various methods with those of the crystal skull, a time-line is developed which will place the skull along that line.
The widely known Mitchell-Hedges skull, located in Canada, one of the most beautiful skulls I have had the pleasure of seeing, is now shrouded in controversy. It is presently suggested that the skull is not ancient, but a work of more recent times, perhaps orchestrated by F.A. Mitchell-Hedges, himself, to promote interest and financing for his adventures. Coined The Skull of Doom', by some associates of the adventurer, actually a misnomer for a term used in the 1930s, The Skull of Dunn. Dunn was an associate of F.A., on the expedition to
Luubantun
, in 1927, which is when young Anna Mitchell-Hedges, then age 17, reports she found the skull in the ruins of a temple.
The Museum of Man, in London, contains a crystal skull which is called the Aztec Skull. It is no longer on display in that museum. Museum personnel as well as visitors claim the skull moves on its own within the glass case in which it is enclosed. It was acquired by the museum at the turn of the century from an antiquity dealer in New York.
The Paris museum of Man also contains a crystal skull called The Aztec Skull, which is no longer on display. Both the Paris Skull, and the British Skull are much smaller than the Mitchell-Hedges skull, and not nearly as perfectly carved or as clear.
In more recent times, several quartz crystal skulls have appeared. Some are suggested ancient by their owners. Extensive examinations of these skulls have, however, determined many are not ancient at all. It is not certain as to the origin of these
imposters
. In the early 1980s, a human-sized quartz crystal skull surfaced in Texas. It was in the possession of
Norbu
Chen, a Tibetan healer. The skull was given to Carl and Jo Ann Parks to satisfy a debt. The skull was placed in a cosmetic case and stored on the floor of a closet in their Houston home for several years. It was while Jo Ann Parks was watching television that she realized that her skull may be an important artifact.
The program was about the Mitchell-Hedges skull, and F.R. Nick
Nocerino
, a world-renowned expert in crystal skull research, was a guest on the show. After viewing the program, Jo Ann, contacted
Nocerino
, upon which he traveled to Houston from his home near San Francisco to examine the skull. He determined that the skull was authentic and that it was ancient. He had indeed been aware of the existence of the skull, but had not been able to determine its location. Soon after
Nocerino's
visit, Jo Ann, after several discussions with the rock, as she fondly referred to it, was told its name was Max.
Also in the mid 80s, Joke van
Dieten
Maasland
, who presently resides in Miami Beach, Florida, acquired a smokey quartz crystal skull from a dealer in Los Angeles. It was reported that this skull had been in the possession of a family in Guatemala, whose parents found the skull in1906, while excavating a Mayan Temple. Joke credits the skull, which she calls E.T., as instrumental in a personal healing of a brain tumor. She shares the story in her book, Messengers of Ancient Wisdom.
In early 1990, a skull weighing more than 40 pounds, which was carved from rock quartz crystal but hollowed out, was donated to the Smithsonian Institution, in Washington. There was little or no documentation as to its authenticity. Since there was no
documentable
evidence of the age or origin of the skull, the curator determined not to place the skull in the museum for viewing until its authenticity was established.
During a lecture tour in Mexico many years ago,
Nocerino
was invited to a location in
Guerro
Provence, to assist in locating the buried ruins of an ancient city. It was during this visit that
Nocerino
provided the information as to the location of what he thought was an ancient temple. (Due to the current political situation in Mexico, the safety of those currently involved with this excavation would be compromised should I reveal the exact location of the excavation, or the name of the city.) Excavation of that location later revealed several carved crystal artifacts. Among these artifacts were two crystal skulls, one of which is currently owned by
Nocerino
, which is 13 pounds 3 ounces and is carved of clear quartz crystal.
Nocerino
calls the skull
Sha
-Na-Ra, in memory of a Shaman Healer he once knew. The second is currently owned by
DaEl
Walker, a well- known crystal researcher and author of several crystal healing books. It is smaller than
Sha
-Na-Ra, about 9 pounds, also quartz crystal.
DaEl
calls it The Rainbow Skull, due to the rainbow of colors that dance through the skull when in the natural light.
There were many other artifacts found at this location. Several small carved crystal skulls, half skulls which were hollow and a very rare and powerful item we call The Jaguar Man. It is five inches high, two inches in diameter and is carved of quartz crystal. It depicts the head of a Jaguar, with the head of a man in its mouth. The facial features of the man do not appear Mayan. This piece is currently owned by me, and is being exposed to extensive research. Excavation continues in this area and additional finds are expected.
The
Pelton
Foundation of Applied Paranormal Research, The Institute of Psychic and Hypnotic sciences and The Society of Crystal Skulls, International, launched a research project and video documentary which included the Rainbow,
Sha
-Na-Ra, E.T., Jesuit, Max, and the Agate Chip skulls. Members of the various organizations who were expert in the field of
psychometry
,
scrying
and gazing were brought in to work with the skulls in an attempt to learn more about the skulls using these methods. It would be the first time in recorded history that more than two authentic carved quartz crystal skulls would be together in one room at the same time.
Our project included X-rays, to determine if any were broken or had been more than one piece and glued together, laser light penetration, and startling close-up video of the skulls. The results of phase one of the project can be viewed in our production Skull Trek: The journey of the Crystal Skulls. This production also includes information and photographs of 16 additional crystal skulls, such as the Mitchell-Hedges, Paris, British, Marin, San Jose and Amethyst skulls to mention just a few. Portions of the
scrying
sessions are also provided.
Psychometry
and
scrying
provided glimpses of the past and wonderful scenarios of ancient ceremonies. A connection with the fabled Atlantis was also brought out during one of the sessions. What were these magnificent objects used for? Who carved them? Is it possible that contemporary society can make use of their wisdom for physical and mental healing? Further research may provide the answers. Perhaps it will provide only more questions!
During my personal research with the skulls, I stumbled upon a phenomenon that I am continuing to pursue. While working with the skulls, performing scrying, I was using various colors and sounds. I placed the skull on a small light box and alternated several colors over the light source opening. After recording my sessions over a period of several weeks, I began a review of the results. I was shocked to learn that when I used a certain color over the light source it seemed to activate a time period. Researching my results further, I determined that each time I used the same color blue, for example, that I would revert to the same time frame. I could almost pick up where I left off at the end of the previous session that I used the particular color. The energy that these skulls produce is staggering. Are they indeed holding the knowledge of mankind? Were they left by an extraterrestrial intelligence? The ages of some of these skulls are estimated to be 100,000 years old. Without ancient documentation, psychometry may be the only tool that can be utilized to obtain the information. Our research continues daily.
In April of 1996, The BBC, in association with the British Museum and Everyman Productions, of London, performed tests on several crystal skulls to determine the age of the caning through electron microscope. Nick Nocerino was invited to bring Sha-Na-Ra. Carl and Jo Ann Parks were invited to bring Max. The British museum offered their Aztec skull and the Smithsonian Institution was invited to bring their 40-pound skull. Also included was a skull from Guatemala, an ancient gold and silver plated reliquary cross which rested in a carved crystal skull and a small skull. Anna Mitchell-Hedges was also invited. However, she declined.
A documentary was produced of the tests by the BBC. The results were shocking to the museum staff. It was determined that the British skull and the Smithsonian skull were not ancient, but in fact carved using very contemporary methods from the 1800s. Sha-Na-Ra and Max were also examined. While the officials of the museum would not publicly comment as to the results, it was confidentially revealed, by the antiquity expert brought to the museum by its officials, that the method used to carve Max and Sha-Na-Ra, was used more than 5000 years ago! The skull in the British museum was a fake. The Smithsonian skull was a fake. The Mitchell-Hedges skull? Well, we wonder why Anna declined. Her only comment was that it had been tested enough in the past. The BBC aired their documentary in July, 1996 and will be aired by U.S. television, however, no date has yet been set. In a letter to me from Everyman Productions, in London, it was reported by the BBC that they had never aired a program in this series with a larger audience.
--------------------------------------------------------------------------------
The documentary produced as a result of the research project is titled Skull Trek: The Journey of the Crystal Skulls, and can be purchased from Pelton Publications as advertised in this issue of Atlantis Rising. Additional information about the crystal skulls can be obtained by writing F.R. Nick Nocerino, P. O. Box 302, Pinole, CA. 94564, Pelton Publications P. O. Box 377, Pinole, CA. 94564 or you can contact Carl and Jo Ann Parks, directly in Houston, Texas. Jo Ann travels extensively with Max. Her appearance schedule may be obtained from her or Pelton Publications. Joke van Dieten may be contacted directly in Miami Beach, Florida. She also is now traveling with E.T., Sha-Na-Ra, The Rainbow Skull and The Jaguar Man are not available for viewing, however, additional information regarding these artifacts can be obtained by contacting Mr. Nocerino or myself at Pelton Publications.
---
Letters from our Visitors
I'm listening to the interview on George Noory's "Coast To Coast AM" radio talk show, and the topic is Max. It jarred my memory a bit. I believe I briefly met and experienced Max during a Phoenix workshop about 10 years ago in a bookstore, after formerly experiencing the Mitchell-Hedges skull. Interesting, I must say.
The emotional responses of observers are because of the purifying/rebalancing energies of the skulls. The soul responds. It would be frightening to someone who lives from fear, but exhilirating to someone who is more open to life. There is the subconscious recognition of the connection with Spirit, and only one's interpretation of his personal experience needs to be feared.
I've heard some statements made during the program that perhaps could be amended to be more accurate. I'm no expert, other than working with Arkansas quartz crystals extensively since the mid-1980s. They taught me what I know about them. I first set them out on the dining table before me night after night and used a pendulum tool to study their "energy flows." Then I was led to put them in patterns to create environmental treatments for varied needs. Crystals do not originate and generate energy, not a one. Rather they act like radio transceivers to "breathe in" crystals at one point (sometimes at one end, sometimes at a spot inbetween) and spiral the energies like double helixes throughout, then "exhale" it at the other end, or elsewhere. I had to get acquainted with each crystal individually this way to map its energy flow. They are as individualistic as humans, but there are patterns that they fall within. For that reason, I have my collection of crystals separated into groups, depending upon their beneficial uses. I think of them with the same appreciation as a magnifying glass that collects sunlight rays and focuses them together for a seemingly stronger, more focused concentration that appears to do miracles.
Imperfections of quartz are not to be overlooked or downplayed. Those are key spots of energy accumulation/release. I would not expect or want to use a perfect, clear quartz tool. It's the occlusions and "flaws" that give them their specific uniquenesses of application possibilities.
The comment was given on the program: "Max has expanded. He has enhanced my life." That sums it all up perfectly.
No doubt Max hated hibernating in the box so long. Light rays are the lifeblood of quartz. They thrive in the light, just like flowers and we do. Isolation and darkness make them withdraw and go inert.
Anyway, since discovering their properties as tools, not as mystic gods with minds of their own, but as extensions of my own consciousness, I had to learn to control my emotions before handling them so that I didn't keep blowing out light bulbs, etc. They exemplify that adage about giving out 10 times what is received. Their use to purify any form of water is a fascinating attribute of quartz. I use them now in place of bandaids and ice bags when I stub toes and sprain ankles, etc. I put them into patterns, according to the need, and they seem to draw out the excessive energy buildup of tissue damage repair going on within 20 minutes and all is well from there on as if nothing ever happened.
The Mitchell Hedges skull experience was indescribable, even in a public setting. When I had a minute to sit at the card table with Max, the lighting and room conditions seemed out of accord and I experienced no affinity with him. But I have channeled through Spirit to ask about crystal skulls. This is what I was led to believe:
"The skull is a duplication, not a model. It was made by humanoids who were not of this earth. They would be termed Pleiadeans to your knowledge. They extended within another parallel galaxy to your Milky Way as an invisible counterpart of your sixth dimensional existence, like a sister galaxy.
"The skull was actually brought to earth realm fully created. It was teleported along with visitors who came to teach earth mortals about their Pleiadean heritage and purpose for being here, also how the transposition came about. These themselves were experimental tools developed for mortal use. They used the skull for teaching mortals about themselves and their spirit-living-in-earth existence. The skull was displayed for use in expanding mortal awareness of physical life in order to regain understanding of relationship with light-and-sound life forces inherent within the realm. This is the foundation of what you now identify as 'priesthoods.' Thus, the skull was not a religious object of worship, for no such worship existed. Rather, it was a teaching device left with mortals to apply similarly in order to teach future generations and perpetuate satisfactory supra-conscious evolvement.
"There were other such quartz crystal skulls besides this one [the Mitchell Hedges skull] used for various purposes of teaching throughout South America at key areas of cultures. They were brought to key points of location among mankind for use by the Pleiadean visitors to benefit them. These skulls were connectors interlinking the sites, like fingers of one hand. Each functioned individually as well as collectively.
"The skull becomes a tool into your soul's awareness that houses all knowledge of experience. All that is discovered through them becomes applicable to mortal capability that has become forgotten temporarily while in mortal capability that has become forgotten while in the mortal living state. Freedom is possible to be gained, depending upon the state of fears entertained by false beliefs of the person. In truth, there is nothing to be feared by the user. Thus, he must purify himself of his illusionary beliefs in order to gain the benefit. It is a tool for reawakening and reteaching oneself. Limitations of time and space become transcended as he opens awareness to greater realms and the totality of Life permeating his mortal home. ... Mankind must learn how to listen within his own innate sensing channels and to trust himself in that. It is like a helpmate for more direct communication within oneself in totality beyond his mortal identity.
"This is the gist of the crystal skull of quartz. Do not make it become idolized or venerated more than it is designed to be. Do not become enamored with scientific provings and testings of phenomena nor construction. It cannot be explained with the proof that is sought. Science can only test its physical effects of its properties, but what is to be gained by that? Then it becomes a curiosity item."
All I know from my experience is that these are like transportation tools that need the human driver to direct their course of application. They are like orchids in a floral garden that need caretakers so that do not fall into disarray or get lost again. Like everything in Nature, they are like gifts for use to enhance life. Everything I learned about the properties of quartz crystals is likewise applicable to myself. And I believe that is the key to discovering how to attain and retain harmony in a chaotic world.
---
The Mysterious Crystal Skulls
The purpose of this article is to provide a short concise description about the crystal skulls, one of the greatest mysteries in our world.
An Australian magazine originally had requested an article from me and I had to write in but a few days. So it was not an easy task by any means as the study about the crystal skulls is very involved and complex (to a degree). But, being an Aries born individual, I definitely accepted this challenge and I think the end results weren't bad. So, now is our time to share this information with you!
Who am I?
My name is Joshua Shapiro (American born in Chicago) and in April of 1983,
I was minding my own business when I walked into a metaphysical bookstore in San Jose, California and saw a picture of an almost human-sized Amethyst Crystal Skull. What was amazing is that when I gazed at this picture, I felt a strong and powerful vibration throughout my entire body and heard in my head the words, "What is this (the skull) doing out now?" Within an hour, while I was still in the same bookstore speaking to the owner, a powerful earthquake hit a city in California not far from us and the table with the pictures of this crystal skull was shaking as well. With an inner and outer confirmation, my journey with the crystal skulls had begun. Now almost 20 years later, having given over 200 presentations in the U.S., Canada, South America, Australia and all over Europe (10 different countries), boy do I have some important things to tell you about the crystal skulls!!
Next Question you may ask, "What is a Crystal Skull?"
Well as the name does imply, we are speaking about skull shaped objects made from various types of quartz crystals (clear, amethyst, smoky, rose, etc …).
"OLD" – a crystal skull that was fashioned from over 100 years ago to about 1000 years ago. Most of these types of skulls have been discovered within or near ancient ruins in Mexico or Central America and many of them are guarded by descendants of various indigenous people throughout the world. Usually with the "Old" crystal skulls we can have find some type of tool mark left by the carver, as is the case with the "New" crystal skulls.
"ANCIENT" -- a crystal skull that was created from 1500-2000 years ago to whenever (they could be hundreds of thousands of years old). There are a few crystal skulls that exist today which are considered "ANCIENT" crystal skulls.
However, there is absolutely no known technique we have that can date when a quartz crystal was fashioned. In general if we don't find any tool marks this infers the skull was either done by hand or using some advance technology we don't know about (Lasers [of which primitive tribes did not have], Thought Projection into the Ethers, a Gift from the Gods [ETs], made by an advance culture that existed on the earth long ago [Atlantis, Lemuria] or they may have come from some advance civilizations that live in the Inner Earth [the Hollow Earth theory,
a whole new article by itself].
It is my personal belief that the true understanding of the ancient crystal skulls can be found within various traditions of the indigenous cultures that exist in our world. In particular, there is a definite connection with the crystal skulls with the Mayans and the Aztecs, and there is even information coming from various Native American sources that they know about the skulls as well. In most cases, the crystal skulls are linked to sacred world prophecies held by these people.
Also if such cultures have their own crystal skulls (which seems very likely) they are protecting and guard these skulls in secret as they consider these artifacts very sacred and take the responsibility to hold them very seriously. To determine what type of crystal skull one might have, either we can go by the Legends of the Indigenous People who have them, or by working with trained sensitives who can psychically link into the energy and history of the skull.
History of the Crystal Skulls
The public first became aware of the crystal skulls during the later part of the 19th century. At this time, many museums of the world became interested in displaying antiquities from past civilizations (Egypt, Greece, Mesoamerica, etc …).
Thus, in the 1878, in the Musèe de l'homme (Museum of Man in Paris -- for our French readers) and in 1898, in the Museum of Man of London (for our British readers), each had a clear quartz skull on display (both came out during the 1860's during the French occupation of Mexico, purportedly found or acquired by Soldiers of Fortune, linked to Mayan sites in this country).
However, in the research conducted for our new book, "Journeys of a Crystal Skull Explorer" (to be released as an e-book and published book this year) there were a number of other old and ancient crystal skulls that were uncovered in various ways during this same century which eventually found their way (after passing through the hands of various people) to specific individuals who are publicly known today!
Again in the early part of the 20th century, usually connected with ancient Mesoamerican ruins or areas, more crystal skulls were uncovered:
"The Mitchell-Hedges Crystal Skull": named after famed explorer and adventurer, F. A. Mitchell-Hedges, discovered in Lubaantum, an ancient Mayan city in Belize in 1924, human size, clear quartz, removable jaw, an almost exact duplicate of our own modern skull, now in the hands of Anna Mitchell-Hedges in Canada;

"ET": discovered by a Mayan family near Guatemala while digging on their property in 1906; purchased by Joke Van Dieten in 1991 through a crystal store near Los Angeles, is the only human size ancient crystal skull made from smoky quartz which has a resemblance to an "ET" shape, this skull now travels the world and was shown at a major exhibition of Mysterious Objects in Vienna in 2001;

"Max": 18 lb (9 kilo) clear quartz crystal skull purportedly discovered in a Mayan tomb in Guatemala between 1924-1926. The skull was gifted by a Mayan Shaman to a Tibet trained lama in 1970, used in a healing center in Houston, Texas and then upon the lama's death, was given to Carl and JoAnn Parks, who tour with this crystal skull with many people in the U.S. primarily. The name comes from a telepathic communication between the skull and Mrs. Parks, where the skull informs this is the name.

"Ami", the Amethyst Crystal Skull:
Its history is unsure, purportedly it was part of a collection of crystal skulls held by the Mexican President Diaz from 1876-1910, but also we have reports the skull was discovered in the Oaxaca area (Mexico) and was hand down generation to generation through an order of Mayan Priests. Now it resides in San Jose, California with a group of businessmen who are offering this skull for sale.There are of course many other crystal skulls which are believed to be "ANCIENT" or very old, but this group of four is a good representation.
So, why are the Crystal Skulls so Important?
It would take a good book (like the one we are doing) to be able to answer this question, so I will just give a few ideas or thoughts for the readers:
"The ancient Crystal Skulls are the computers of the ancients, they contain important information that help humanity to pass through it current series of challenges to take us into a Golden Age."

"They were a powerful tool for healing [Body Mind Spirit] by ancient civilizations such as the Mayans or the Atlanteans"

"Today, we have witnessed so many people's lives profoundly affected when they have had an opportunity to be in the presence of an 'ANCIENT' crystal skull (healing of all types of illness, expansion of ones spiritual awareness, bringing to a head emotional or mental blocks, being a catalyst for a positive change in a person's life and the list goes on) or even now, this phenomena is beginning to happen around the 'NEW' crystal skulls."
Has Any Research Been Done to Understand the Skulls?
Yes indeed, there has been some interesting conducted by the Crystal Skull Society International in California, headed by crystal skull expert, F. R. "Nick" Nocerino for almost 60 years. Additionally, in 2001, a group of us formed the World Mystery Research Center (based in the U.S. and Holland) where we began to focus on two aspect related to the crystal skulls:
Final Comments from the Writer
I believe the crystal skulls are one of the most important ancient artifacts that have surfaced into the public's attention which exist today. I believe the crystal skulls hold key information that will to bring to our world a time of perfect peace and harmony by the year 2013 (or in the 'Year Zero', December 21st, 2012 as stated by the Mayans). This special date is so significant that my new wife Desy and I married on December 21st, of last year, in the presence of our own crystal skulls and images of several ancient crystal skulls, 10 years before.
Regardless of the sources from which these skulls originated from (other worlds brought here by the ETs, Atlantis, Lemuria, the Inner Earth, etc …) they are now helping many people to awaken to their true potential and to see that we are all members of the same spiritual family who must unite together and work in a cooperative manner to create a world of peace and harmony for ourselves and the generations to come. The Crystal Skulls are a sign from the Universe and unseen spiritual helpers; that this time of Peace that has been prophesized is now here and at hand, if we each could but do what only makes our hearts sing.
Thank you for reading and listening. Hopefully in the near future, Desy and I will be able to personally meet with you to share the energies of the crystal skulls as we continue our personal journey and odyssey all over the world, guided by the presence linked to these special crystalline friends.