Windermere is a town of about 2300 population within the Lake District National Park in the North West England shire county of Cumbria. Windermere town center is half a mile from Lake Windermere, England's largest fresh water natural lake. Lake Windermere has been summer and holidays cottage country since for the middle of the 19th century when a railway branch line gave the city-folk from central England access to the area's beauty.
The town of Windermere does not touch Lake Windermere. But it has grown together with lakeside town of Bowness-on-Windermere. The odd combined town retains two distinct town centres. The Windermere railway station continues in operation today.
While there are a many cultural attractions in the Wingemere area, none can match the beauty of the natural environment. The mountains of Cumbria surround the lake basin, at the center of which lies the ten and half mile long ribbon lake: long, narrow and deep. Ribbon lakes were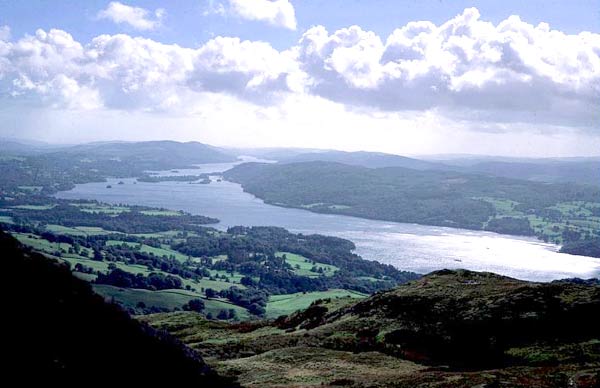 formed during the last ice age and are canyons with a river at either end. A glacier would have dug a glacial trough through a vein of soft rock, creating a canyon surrounded by the harder rock of the mountains. Boats from the piers in Bowness sail around the lake. There are 18 islands in the lake, the largest of 40 acres and privately owned. Two other villages are along the lake shoe, Ambleside and Lakeside. Sailing from one to the other is an excellent way to while away a summer's day.
Since the 1950s there have been isolated reports of somethin odd in Lake Windermere. The story, documented by Centre for Fortean Zoology, was not much known until 2006, when a man and wife reported seeing something large swimming about 30 yards from shore. This focused local attention on the Lake and later in the year a photographer named Linden Adams took some photos that were picked up by wire services and cable news network. The pictures have never been proven inauthentic.
From the Westmorland (Eng.) Gazette: 18 Aug. 2006
A HOLIDAYMAKER has spoken of his horror at seeing a Loch Ness-type monster'
emerge from the depths of Windermere, report Paul Duncan and Peter Otway.
University lecturer Steve Burnip and his wife, Eileen, were shocked at seeing the serpent-like creature surface from the waters as they stood at a well-known viewpoint.
"I was absolutely flabbergasted, I just stood there and couldn't believe what I was looking at," said Mr Burnip, who has been holidaying in the area for 13 years with his family.
He claimed the creature was about 15-20ft long with a little head and two small humps following in its wake. "It was like a giant eel."
Mr Burnip, who is 51 and from Hebden Bridge, was looking out from Watbarrow
point that looks across the lake to Waterhead.
Ian Winfield, a fish ecologist for the Centre for Ecology and Hydrology at Lancaster University, believes Mr Burnip could have seen a catfish, as they have been introduced to a lot of lakes for angling.
"The Wels catfish comes from mainland Europe and can grow to about 500cm and weigh up to 306kg and there have been numerous records of catfish washing up dead in Cumbrian lakes," said Mr Whitfield.